Felted Wool Accessories For Every Occasion
WHAT'S NEW Scarves
They're back! Need something to tide you over until spring properly arrives? Look no further! Pair with your favourite shirt and coat for a perfect transitional outfit!
Check 'em out
More than an accessory.
Whether you need a boost in confidence for a job interview, you're doing a face mask in the bath after tough day, or need to throw your hair up for an impromptu evening out....
I've got you.
The Scarf
A perfect extra layer for those cold Spring mornings or pair with your favourite T-shirt and jacket for a great transitional daytime outfit! Super cosy and soft, made from 100% Lambswool Yarn.
Layer me up
The Yarn - What it's all made from.
Each scrunchie is knitted using super soft, 100% Lambswool yarn. The knitted piece is then felted in hot water matting the wool fibres together, creating a thick luxurious soft fabric, before getting turned into a scrunchie.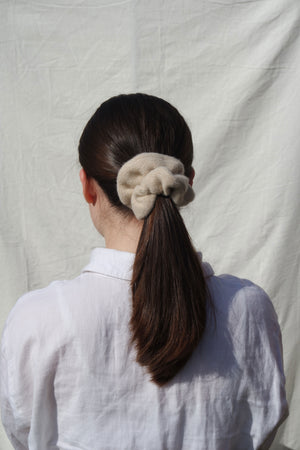 Felted Wool Scrunchie
Sale price Price £25.00 Regular price Unit price / per
Tax included.
Shipping
calculated at checkout.